After Google told the people who made the YouTube Vanced app to stop making it, the app was taken down. YouTube Vanced is a very popular third-party app that modifies YouTube and gives all of the features of YouTube Premium for free. That means that users of the Vanced app could watch YouTube videos with no ads and also play videos in the background. But since the app can no longer be downloaded from its official website and will no longer be updated or supported, many of you may be looking for alternatives to YouTube Vanced so you can watch YouTube videos without ads on your phone.
Here is a list of the top 7 alternatives to YouTube Vanced that you can use to watch YouTube videos without ads and without paying anything.
1. NewPipe
By far, NewPipe is the best alternative to YouTube Vanced right now. The NewPipe is an Open-Source and free YouTube client that lets people watch YouTube videos without ads on their phones. Because the app doesn't use the YouTube API or Google's framework libraries, you can use it even if you don't have Google Mobile Services (GMS). So it works well with devices like Huawei's. You don't even need a Google account to use NewPipe to watch YouTube videos.
The app lets you stream videos without ads and also lets you download videos that you can watch anywhere on your phone, not just in the app. You can import your subscribed YouTube channels into the NewPipe app so you can watch the videos YouTube suggested on its app. But you can't sign in to the NewPipe app with your Google account, which can be good or bad for users depending on how they usually watch videos on YouTube.
Pros:
Free to use and open source.
Modern UI with no ads and a focus on privacy.
Cons:
Can't sign-in with Google account
2. SkyTube
SkyTube is the next YouTube Vanced alternative on the list. The app is no less useful than NewPipe in any way. It has the same ability to import YouTube channels that you've subscribed to, so you don't have to look for your subscribed YouTube creators by hand. The app is free and open-source, which makes it a good choice for people who care about their privacy.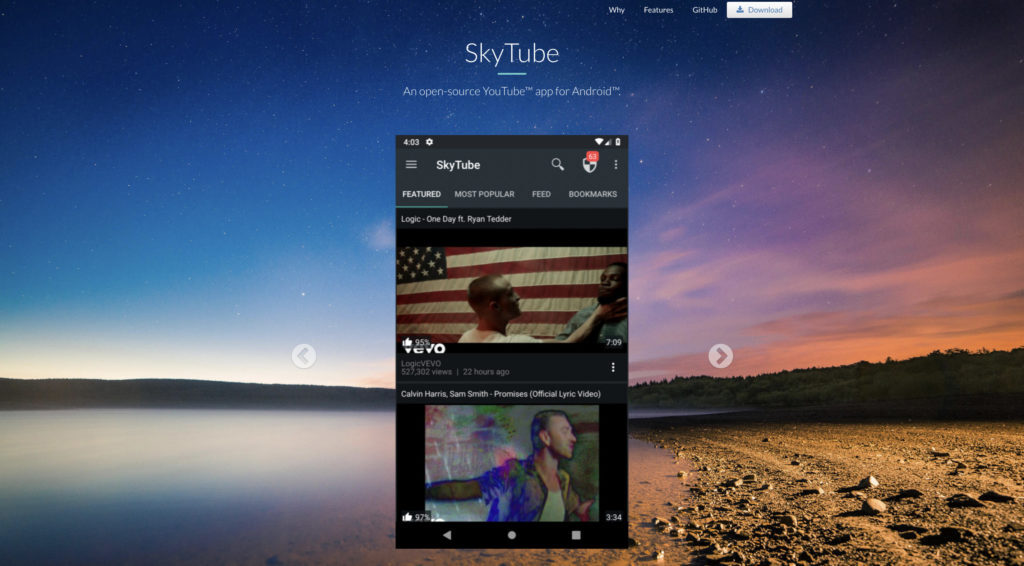 You can't use your Google account on this app either, just like you can't on NewPipe. There's no way to do that right now, and there's no sign that it will be added soon. The SkyTube app actually comes in two different versions: SkyTube and SkyTube Extra. The SkyTube Extra has a few more features, such as an official YouTube player, the ability to cast, etc. But this version still doesn't have a way to sign in with a Google account.
Pros:
Ads-free and free to use
Keep subscriptions from the main app
The Extra version has the official YouTube player.
Cons:
Can't sign in with a Google account
Get SkyTube | Get SkyTube Extra
3. LibreTube
LibreTube is another open-source app that can be used to stream YouTube videos for free. The app is pretty well made. It looks modern, is easy to use, and has a slight dark-mode theme that I like. The app lets you change the video quality and playback speed while streaming videos, and you can do the same thing when you download videos.
The LibreTube is in beta right now, which means that the developers are always testing it out. The app's development is going well, and you can see updates and bug fixes in the app quite often. But because it's still in beta, you might run into some problems now and then. However, when I used it, the app was fine and worked well 98 percent of the time.
Pros:
Free and open-source
Ads-free
Based on Piped
Cons:
Currently in beta
Can't sign-in with Google account
4. uYouPlus
YouTube Vanced was only available for Android devices, but iPhone users also want to use YouTube without ads. And for these kinds of users, the uYouPlus is a great choice. It is by far the best alternative to YouTube Vanced for iPhones and iPads. The uYouPlus is a changed version of the original uYou. It has extra features like PiP, SponsorBlock, and VP9 codecs.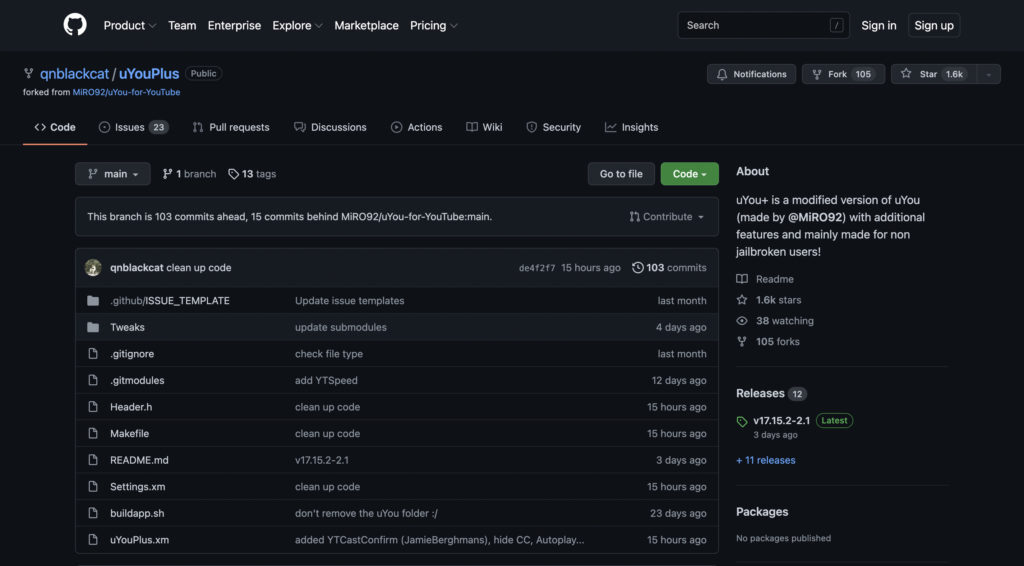 If you want to know if uYouPlus works on iPhones that haven't been jailbroken, the answer is yes. You don't have to jailbreak your iPhone or iPad to use the uYouPlus. You only need to know how to sideload apps onto an iOS device, and you're good to go. A good tip is to get uYouPlus from Alt Store and set it up.
You can follow the steps in our GBA4iOS installation guide to install uYouPlus from the AltStore.
Pros:
Free to use.
Ads-free.
Skip sponsor segments.
Vanced alternative for iOS.
Cons:
Installation can be a hassle for some users.
5. Brave Browser
The Brave Browser is another popular and privacy-focused way to watch YouTube videos without ads. This is not a direct alternative to YouTube Vanced, but you can't deny that you can watch YouTube videos without pre-roll ads because it works on Android, iOS, Windows, and Mac. Because there aren't many or any alternatives to Vanced for iOS, Mac, and Windows, the Brave Browser gives you a single solution that you can use on all of your devices.
The Brave browser is also based on the chromium engine, so it has a lot of the same features and functions as Google Chrome. Brave is a good way to watch YouTube videos without ads because you can sign in with your Google account and have a pure YouTube experience. The Browser is also well-suited to the Web 3.0 space because it offers its own crypto-token, BAT, in exchange for simple browsing. It's pretty good because BAT has its own value.
Pros:
Free and open-source
Ads-free YouTube
Can be used on all major platforms
Can use your Google account to sign-in
Cons:
No app-based features like sponsored segments skipping, downloading videos etc.
6. uBlock Origin Extension
Now that we've talked about the browsers on the list, let's talk about one of the best things, which is that they support 3rd-party extensions. If you watch a lot of YouTube on the web, you can try the uBlock Origin browser extension. It works well with Firefox, Google Chrome, and Kiwi. Since Google Chrome for phones doesn't work with extensions, you can use the extension on Android and iOS phones with the Firefox and Kiwi browsers.
This add-on was made to block ads, but it also works perfectly with the YouTube website. With this extension, you can get rid of any kind of ad on the web version of YouTube. With this method, you can use the original YouTube with your own Google ID, which is a plus.
Pros:
Free to use
Ads-free
Can be used on smartphones and PCs
Google sign-in is possible
Cons:
No app-based features like downloading videos, sponsored segments skipping, etc.
Download for Firefox | Download uBlock Origin for Chromium browsers
7. AdGuard AdBlocker
You can get rid of the ads on YouTube in another way with AdGuard. The Ad Guard is available for Android, iOS, Mac, and Windows, which are the most popular operating systems. It also comes with the Google Chrom extension, which you can add to your web browser and use to get rid of ads on all web pages. Even though the app is free to download, you have to pay for a membership to block ads inside the app. This membership costs $59.99 for a year for three devices, which is a fair price.
AdGuard is a very useful app that can get rid of ads on your whole device. It also protects you from online tracking by hiding your data from the many trackers and activity analyzers on the web. It also makes sure you can browse the web safely by keeping you away from scam websites, phishing sites, and malware attacks.
Pros:
privacy-focused
Remove ads for all kinds of websites and apps
Can be used on the official YouTube app and website
Google sign-in is possible
Cons:
Frequently Asked Questions (FAQs)
Is there an alternative for YouTube Vanced?
Yes, you can watch YouTube videos without ads with more than just YouTube Vanced. Instead of YouTube Vanced, you can use a number of other apps. Some of the most popular ones are NewPipe, SkyTube, LibreTube, and uYouPlus.
Is Vanced YouTube harmful?
If you downloaded YouTube Vanced Manager from their official website, you should be fine. But the official developers of the app have stopped making it and taken down all the official download links, so you can't get it from there. But there are a lot of third-party APK file providers on the internet that still offer the YouTube Vanced apk, and I can't say for sure that they are real.
What is the best alternative to YouTube?
You can use any of the many alternatives to YouTube Vanced that are out there. I have given you a list of some of the best apps out there. If you have an Android device, I recommend NewPipe or SkyTube, and if you have an Apple iPhone, I recommend uYouPlus.
Can I trust Vanced MicroG?
If you install the Vanced MicroG from the Vanced Manager, which you can get from the official YouTube Vanced website, you can trust it. But now that the official YouTube Vanced site doesn't have download links, I can't guarantee and won't suggest that you download it from any other source that isn't official. Use one of the other YouTube Vanced options instead.
Is it OK to delete Vanced manager?
Yes, you can get rid of the Vanced Manager from your device. Your device uses the Vanced Manager to make sure that the Vanced MicroG, YouTube Vanced, and YouTube Music Vanced are all up to date in a safe way. The people who made YouTube Vanced have stopped working on it, so there won't be any more updates to the app. This means there's no point in having the Vanced Manager app on your device anymore.
So this is the end of the list of the best alternatives to YouTube Vanced for Android, iOS, and the Web. The Vanced app will no longer be able to be downloaded from the official site, and there will be no more updates or new features. The Vanced app can still be downloaded from websites that aren't official, but I don't recommend doing so because it's no longer safe. Instead, it's much smarter to have something else besides YouTube Vanced.