Truckers of Europe 3 is a popular truck simulator game that allows players to experience life as a truck driver on Europe's highways and backroads. The game provides an immersive experience for all truck enthusiasts, with stunning graphics, realistic physics, and a large open world. This article is for you if you want to play Truckers of Europe 3 on your PC or Mac. We'll walk you through the process of installing and playing the game so you can get started on your trucking adventure right away.
Download & Install BlueStacks
To play Truckers of Europe on your PC, you must first install an Android emulator, such as Bluestacks. Because it is optimized for playing mobile games, Bluestacks is a popular choice for playing mobile games on your PC. This should only take a second, and then you can follow the install wizard to install the application on your system.
Download Truckers of Europe 3
Go to your Play Store and sign in with your Google account. Find Truckers of Europe and install it on your BlueStacks emulator. Depending on your network connection, this could take a few minutes to complete.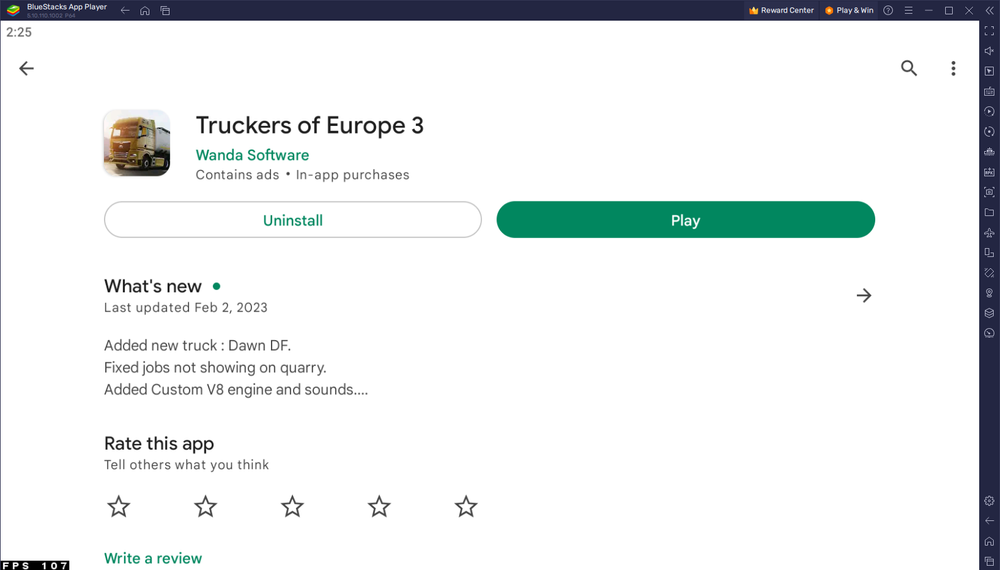 BlueStacks Performance Settings
While downloading the game, you should check your emulator settings. To access these settings, click on the gear icon. Set these in the Performance tab based on the performance of your computer. If you don't have many other applications running in the background, allocate a large number of CPU cores. The same is true for your memory allocation. Set this option to Low for users with 4GB of RAM or less.
In Performance Mode, make sure that this option is set to Balanced. If your PC lags or performs poorly, this will reduce memory and CPU usage. I prefer to enable the high FPS option and set the emulator's frame rate to match the refresh rate of my screen.
BlueStacks Display Settings
Set the display orientation to landscape and select a suitable resolution to play Truckers of Europe on your monitor in your Display settings. You can also resize this window by dragging the corners.
Truckers of Europe 3 Controls
While in-game, click the keyboard icon in the BlueStacks menu bar on the right-hand side. This allows you to enable and disable the On-Screen Controls option. This will assist you in determining which keyboard keys to use when playing Truckers of Europe on your PC or Mac. Click Controls Editor to change your key mapping. You can then drag and drop individual controls, change the key, and apply other settings to help improve your gaming experience. After loading the game, your keyboard and mouse controls should work by default.
Truckers of Europe 3 Control Settings
I recommend checking your in-game settings to see if you can optimize the game to run on your PC. You can change your controls, sensitivity, controller opacity, and whether you want to use the throttle and brake with the Progressive or Normal buttons. This is a matter of personal preference, and I recommend experimenting with these settings while driving to see what works best for you.
Truckers of Europe 3 Graphics Settings Optimization
If you experience lag or other performance issues, lower your overall graphics preset in the Graphics section of your settings. By default, it will be set to High.
Reduce the Shadow Quality because it doesn't help with immersion and can help you keep a better frame rate. The render scale will significantly improve the game's performance. If you want to increase this option, make sure your BlueStacks instance has enough memory. The same is true for your Resolution. To help the game run at a higher resolution and render scale, update your graphics driver and close all background apps.