Now that LCD, TN, and IPS screens use less power, screensavers are no longer needed. In the past, screensavers were used to keep CRT displays from getting burned in, but modern monitors don't need this. Even screensavers can be pretty, and you can choose to use one to feel nostalgic or to show off the bright colors of your IPS computer. You can still use the screen savers for Windows 10 and Mac. In this tutorial, we'll show you how to download and install a retro flip clock screensaver on Windows 11/10 and a Mac.
Meanwhile, Screensavers, also called display savers, are pieces of software that run for a certain amount of time when the computer is not being used. Screensavers were first made so that images or text wouldn't get burned into older monitors.
Today's monitors and flat-panel displays don't have the same problems with burn-in that older CRT monitors did. But people still use screensavers because they look nice and because they protect the computer's password when the user isn't at the keyboard.
Fliqlo Flip Clock: Retro Flip Clock Screensaver
This flip-clock screensaver was made by Yuji Adachi, a Japanese developer who also makes and gives away free fonts, apps, icon sets, and desktop wallpapers, among other things. The Fliqlo screensaver, on the other hand, seems to be one of its most popular projects, and it has been actively worked on. The screensaver is now available as an iOS app for the iPhone and iPad. The app costs $0.99 in the App Store.
The idea behind this screensaver is simple: it turns your screen into an old-fashioned flip clock that looks like the early 20th-century electromechanical alarm clocks. These clocks quickly became popular because they were simple and elegant. They showed the time in big white numbers on a black background. This screensaver is fun and beautiful because it can turn any Windows or Mac OS X computer into a pretty and useful clock. If the screen is bigger, the clock will be bigger.
One thing that this screensaver has that the old flip clocks didn't was the ability to switch between a 12-hour format and a 24-hour format. The size of the clock can also be changed on a scale that goes from 25% to 125%. You can change these settings or turn them off at any time.
The only bad thing we found is that it needs the Adobe Flash Player plug-in to work. This download is safe and free, and most people already have it on their computers, so there shouldn't be a problem.
All things considered, the Fliqlo Flip Clock screensaver is a well-made and useful screensaver that you can use at home or at the office. It's a good thing that it works on both Windows and Mac OS X.
How to Install Retro Flip Clock Screensaver in Windows 11/10
1. Download Retro Flip Clock Screensaver for Windows from this source.
2. Once downloaded, extract the file.
3. Then, open the file you just extracted and double-click on the Fliqlo.exe file to install it. Follow the steps on the screen.
4. After the installation is finished, it will open on its own. Make sure that Fliqlo is chosen under Screen saver, and then click OK.
How to Install Retro Flip Clock Screensaver for Mac
1. Download Retro Flip Clock Screensaver for Mac here
2. Once you've downloaded Fliqlo, run the Fliqlo dmg file and double-click on Fliqlo.saver file.
3. Click "Install," and if asked, type in your Mac's password.
4. Once installed, navigate to System Preferences > Desktop & Screen Saver > Screen Saver and check to see that the Fliqlo screensaver is chosen.
5. To change the Time format, Scale, and Brightness, click Screen Saver Options.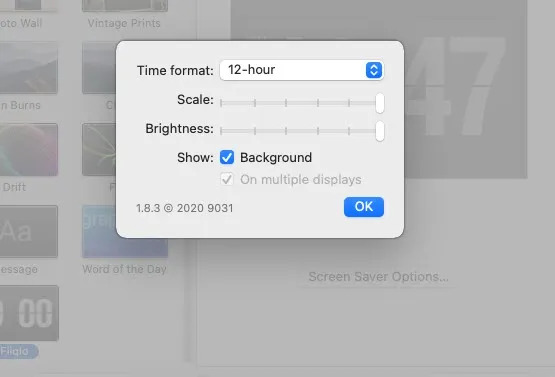 That's about it.