How to Speed up Video on an iPhone
What to Know:

Click Albums > Slo-mo.> pick a slo-mo video > Edit in the Photos App. To modify the speed, use the vertical lines at the bottom. Don't forget to tap Done.

iMovie: Choose Create Project > Movie > Media > Video > Slo-mo > pick video > checkmark > Create Movie > Click video timeline.

Then hit the clock symbol, then drag the speed control slider to the 1x position next to the rabbit. Don't forget to choose Done.
Using the Photos app and iMovie, this article explains how to adjust the video speed of slo-mo iPhone videos to standard speed. All iPhone models running iOS 13 and later are covered by these instructions. The main concepts apply to previous versions of iOS as well, though the processes may vary slightly.
How to Speed Up Video In the Photos App on an iPhone
The pre-installed Photos app is probably the simplest way to alter video speed from slo-mo to standard speed on an iPhone. All of your slo-mo videos taken from your iPhone are saved there. The slo-mo videos can be sped up using the editing tools provided into Photos. Simply follow the steps below:
 1. Go to the Photos app.
 2. Choose Albums.
 3. Pull down to the Media Types section and select Slo-mo.
 4. Choose the slo-mo video that you'd like to speed up.
 5. Choose Edit once the video is open.
 6. A set of vertical lines runs along the bottom. These represent the video's speed at that particular point in the recording. Lines that are relatively close together indicate normal speed, and lines that are quite far apart indicate slo-mo.
7. Choose the bar that has the lines in it and drag your finger across the slo-mo portion. This will shift all of the lines to the close-together version, indicating that they are running at normal speed.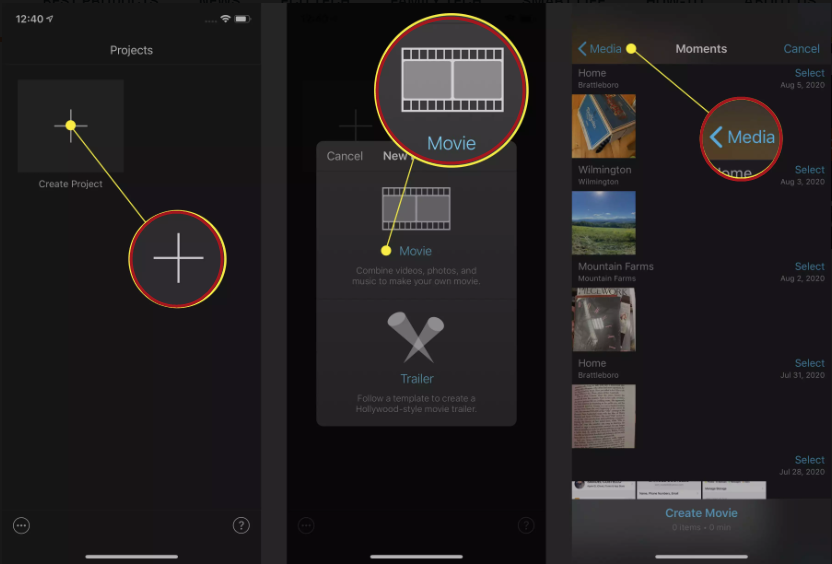 8.  Choose Done to save the video once you've changed the speed of the video.
 Tip: If you changed your mind and want to return slo-mo to your video, choose the portion you'd like to slow down by dragging it into the yellow bar. Then drag your finger across the bar of lines to make the lines farther together.
How to Speed Up Video In iMovie on an iPhone
You may use Apple's iMovie to edit movies if you want something a little more sophisticated than Photos (download iMovie at the App Store). The iMovie program includes a variety of video editing tools, such as filters, titles, music, and more. You may also convert slo-mo video to standard speed with it. To speed up video in iMovie, use these steps:
1. Go to iMovie.
2. Choose Create Project.
3. Choose Movie.