If you have a Lenovo laptop that is running slowly, there are a few things that could be affecting its performance. Today, in this piece, we'll go over some of the key elements that contribute to this issue; all you have to do now is make the necessary changes to get the best performance out of your laptop.
This article explains why your Lenovo laptop may have slowed down, as well as how to speed it up on Windows 10.
Causes of slow Lenovo laptops
Inside Lenovo laptops, dust accumulates.
There is an excessive number of launch and background apps.
The hard disk is about full.
Not enough memory (RAM)
Data on the hard disk drive is fragmented.
Infection with malware or a virus
Failure of hardware
See more: How to upgrade laptop hard drive to SSD without reinstalling Windows
How to speed up Lenovo laptop in Windows 10
Method 1. Clean dust out
Excessive dust build-up on the fan and heat sink may be causing your Lenovo laptop to function slowly on Windows 10. Dust accumulation can prevent a laptop from cooling down effectively, resulting in component damage. Your laptop's performance may be reduced, and the operating speed may be slowed.
In this situation, you can open the laptop properly using a screwdriver or equivalent instrument, then blow the dust away from the vent with a vacuum cleaner or a jar of pressurized air. You can send your laptop to a local Computer Cleaning Services for a safe and time-saving solution.
Method 2. Restart your laptop regularly
Restarting your computer clears the system memory (RAM) and shuts down any rogue processes and services. This is a good approach to get your Lenovo laptop to run faster on Windows 10.
When you restart your computer, it shuts down all of the programs and services that are currently operating, including background processes that other programs have started. The more programs you run and the longer they run, the more likely your computer is to slow down and run out of RAM. At the very least, you should restart your computer once a week.
Method 3. Stop apps from opening on startup
Excessive dust build-up on the fan and heat sink may be causing your Lenovo laptop to function slowly on Windows 10. Dust accumulation can prevent a laptop from cooling down effectively, resulting in component damage. Your laptop's performance may be reduced, and the operating speed may be slowed.
Method 4. Completely uninstall unused programs
This is the most effective approach to prevent undesirable apps from running background processes that consume processor resources.
Step 1: Uninstall programs in Settings
 To uninstall the program, type "programs" into the Search box and then press the Enter key to open the Apps settings. Then just right-click on the software you wish to uninstall and choose "Uninstall."
Step 2: Clear software leftovers
Certain files and folders will remain on the computer after you delete any software. Getting rid of leftovers is an excellent technique to improve PC performance and get rid of trash files that clog up your hard drive. To effortlessly clear app data, follow the instructions below.
To open the run box, press Windows + R.
Click Run after entering %appdata% in the box.
Simply select and delete the folder that contains the name of the uninstalled software.
Rep the previous steps by typing %programdata% in the Run box.
Method 5. Clean hard drive to free up space
If your laptop is running slowly due to a lack of available disk space, extra free space on the hard disk can help. You can easily clean up the hard disk in Windows 10 by deleting unnecessary files and migrating data to other devices.
Windows Disk Cleanup is a one-click solution for removing unused operating system files from your computer. Windows can recognize this stuff and erase any that is no longer required.
Type disk cleanup into the taskbar's search box, then selects it from the results.
Check the box next to the file types you want to get rid of.
Select Clean up system files, and then select the sort of system files you wish to delete to free up even more space.
To begin the cleanup, select OK after selecting the categories of files you wish to delete, and then select Delete files in the confirmation window.
 If you're looking for a faster and easier approach to clean your computer and boost the speed of your Lenovo laptop, System Refixer is a good option to consider. It is one of the most effective PC cleaning programs. It can also assist you in cleaning out the invalid registry.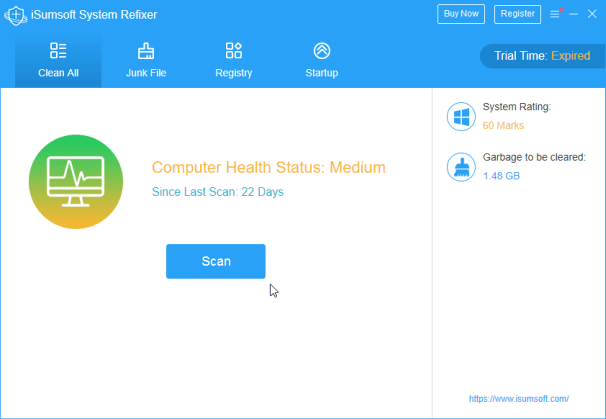 Simply download and install System Refixer on your Lenovo laptop.
To do a quick scan of your system, click the Scan button. It will inform you which registry and files can be securely erased.
To eliminate them, simply click the Clean button.
Only invalid, unneeded, error or broken registry files are scanned by System Refixer's powerful intelligent scanning engine. As a result, you don't have to be concerned about accidentally deleting crucial information.
Method 6. Defragment and Optimize hard drive
Step 1: Type Defragment into the search box, and then click Defragment and Optimize Drives from the list of results.
Step 2: Check the percentage of fragmentation on the disk under Current status. If the percentage is greater than 10%, the disk should be defragmented. Select the disk that needs to be defragmented.
Step 3: Select Optimize from the drop-down menu.
Method 7. Scan your computer for malware
Malware (viruses, spyware, trojans, and other malicious software) can cause a computer to stop working or run slowly. These malicious apps might also track your web browsing habits and show you more ads.
You scan your computer with an anti-virus or anti-malware tool if you suspect it has been contaminated. Windows Defender provides rudimentary malware protection on Windows 10 machines, but dedicated anti-virus or anti-malware software can comprehensively check your system and remove harmful apps. The best approach to see if your Lenovo laptop is free of malware is to conduct a malware scan using Bitdefender Antivirus Plus.
Method 8. Upgrade hardware to increase laptop speed
If you primarily use Lenovo laptops for picture editing, video production, 3D modeling, or other sorts of design work, consider upgrading the RAM. RAM increases can improve your computer's ability to run huge programs. There will be fewer system freezes and crashes.
Consider Crucial 8GB Single DDR4, Samsung 8GB DDR4, and Patriot Viper DDR4 8GB for your RAM update. It's simple to add RAM to your Lenovo laptop, and it only takes a few minutes. You can upgrade the RAM in your laptop if you know how to use a screwdriver.
SSDs, on the other side, are becoming more popular and less expensive. It's almost probable that replacing the hard drive with a new SSD will boost Lenovo's performance. Furthermore, laptops with SSDs will be quieter and more dynamic.
Consider the Crucial MX500 and Samsung 960 EVO SSDs for SSD upgrades. Upgrade a laptop hard disk is simpler than you might believe.
In this video, we are gonna show you how to make Lenovo IdeaPad 3 14IML05 faster:

Hope something helps you.