How to Live Stream on YouTube.
YouTube features a built-in live streaming capability that allows you to make live videos from your computer or smartphone using the YouTube app. Going live on YouTube and sharing real-time videos with your subscribers is simple. Here's all you need to know to start broadcasting on YouTube.
Requirements Live Streaming on YouTube
You must complete a one-time setup that confirms your account before you can live stream. This verifies that you aren't a bot and that
you are eligible to live stream. You must not have any restrictions on your account in order to qualify for live streaming. You will be
disqualified from live broadcasting if you do the following:
Your account has been flagged for violating one or more YouTube community standards.
You have a live broadcast that was previously prohibited globally.
You had a copyright takedown notice on a prior live stream.
A copyrighted live broadcast is included in your live stream.
Additionally, while anyone with an account can live stream from their computer's browser, but you must have a minimum of 1000
channel subscribers to live stream from your phone or another mobile device.
How to Verify Your Account on YouTube for Livestreamig
Here's how to confirm your account if you're ready to start livestreaming to your followers:
1. Launch YouTube in a web browser and make sure you're logged into the account you want to use to live stream from.
2. Press the video icon at the top of the YouTube page and tap Go Live on the right of the search bar.
3. Follow the instructions on the Account verification page to pick your country and obtain a verification code, which you can get via
text message or voice. After that, write your phone number and tap Submit then.
4. Complete the verification and resubmit the code once you have it.
5. You will be confirmed if you wrote the code correctly. Returning to the video menu and attempting to go live now results in a
message stating that your account will require 24 hours to activate. If this is your first time, don't expect to be able to live stream any
sooner than 24 hours.
How to Go Live for the First Time
After you've been confirmed, you can start making your first YouTube livestream. It's a straightforward (and largely painless)
procedure.
1. Go to Youtube in a web browser and tap the video symbol, tap Go live then.
2. You'll very probably have to grant your browser permission to utilize your webcam.
3. Set up your very first live stream. Choose the amount of privacy you want for the video and give it a name. You can make the
video public, only for people who have a link to the video, or private for you only. 
4. If the video is aimed for children, you must state so.
5. Tap Next.
6. YouTube will show a short countdown and capture a picture for the video thumbnail. Prepare yourself!
7. Select Go Live when you're ready to go live. You'll be broadcasting live from now on.
8. Once you've finished your livestream, tap End Stream.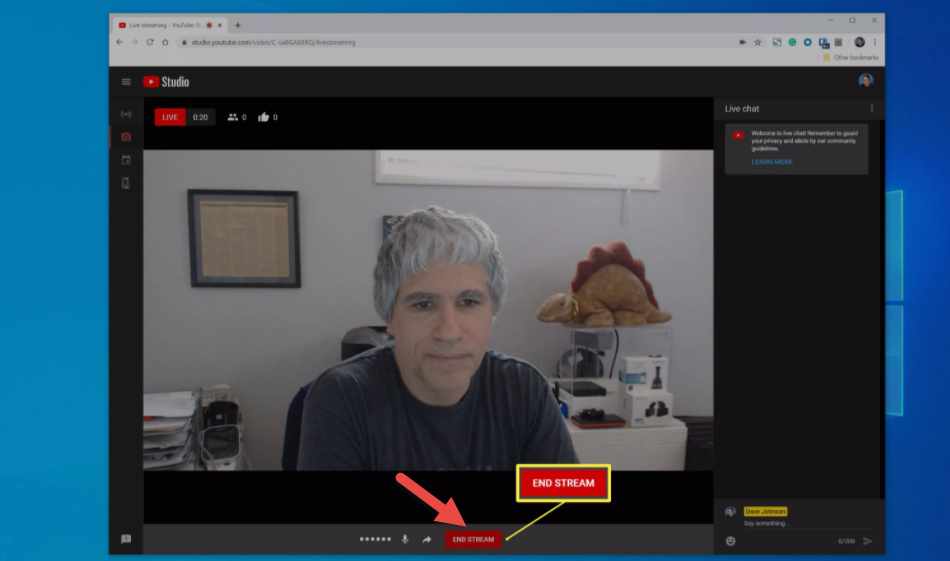 9. In the end, you can choose to modify the video in YouTube Studio—which allows you to cut the beginning and finish of the movie
and make other minor changes—or tap Dismiss to archive the live stream in the Studio.
How to Manage Your Live Streams
You can always find your live streams stored in YouTube Studio after you've created one or more. They never expire on their own, so
unless you delete them, they will remain.
1. Go to the YouTube in a web browser. Then, in the top right of the page, tap your account avatar, and tap YouTube Studio then.
2. Select Videos in the left-hand navigation on the Studio site.
3. To switch to your live broadcasts, tap Live at the top of the video list.
4. Now that you can see your live streams, you can edit them by clicking on the videos. You can also remove your video if you want,
choose the box to the left of the video, then tap More actions from the menu at the top of the video list. Then tap Delete forever.