How to Download Facebook Photos and Videos
Do you want to save images or videos from Facebook? There are a few different methods for downloading Facebook images and videos.
You may wish to download Facebook images and videos to your computer or phone because Facebook is a treasure mine of memories for you and your friends.
We'll teach you how to download your images, as well as photos and videos from your friends, using both official and third-party Facebook photo downloader tools.
How to Download Facebook Photos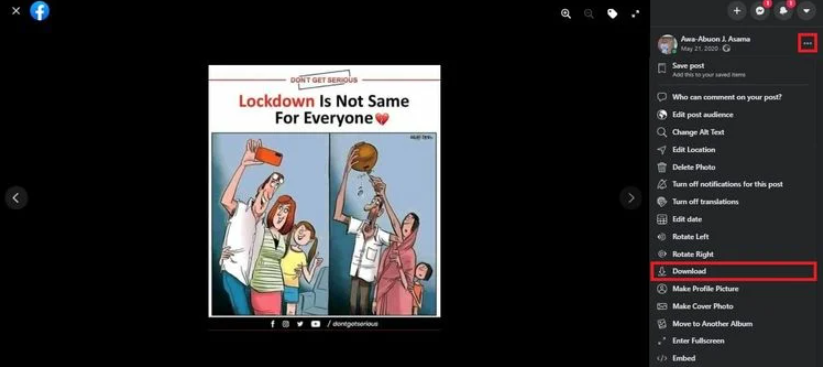 Don't bother with third-party apps or websites if you just want to save a single photo on Facebook. Facebook itself has a simple downloader.
On a desktop, open the photo and choose Menu (the three-dot icon) > Download.
On a mobile device, open the photo in the Facebook app choose Menu (the three-dot icon) > Save to Phone.
This approach can be used to download Facebook photographs. That's all there is to it.
Nevertheless, you should be able to download your friends' Facebook images if their Facebook photo privacy settings allow it.
How to Download Facebook Albums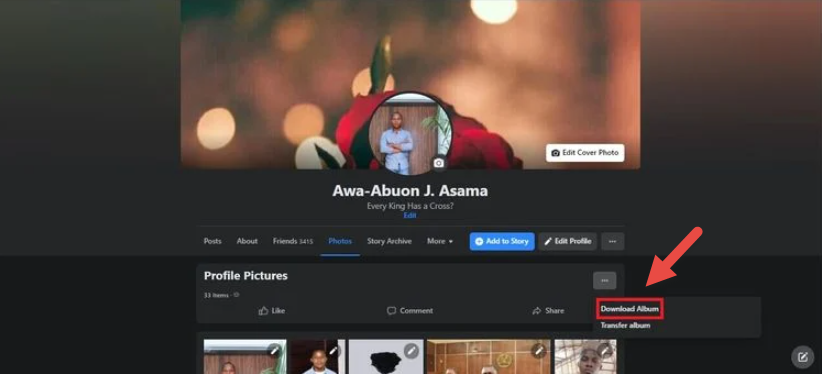 Facebook provides an easy technique for downloading a Facebook album from your own profile. Again, no third-party downloading programs are required for this.
Click your own name to go to your profile.
Open Photos > Albums.
Navigate to the album that you want to download.
Tap the three-dot icon in the top-right corner and choose Download Album.
Facebook will begin compressing all of the images. This may take some time, depending on the size of the album. When it's finished, you'll receive an email notification that the album is ready to download.
The album is downloaded as a ZIP file. To see the photos, you'll need to unzip them.
How to Download All of Your Facebook Photos

There's also a simple way to download all of the images you've ever submitted to Facebook. You'll even find them in the right album subfolders. The names of the files, on the other hand, can be a little weird.
Here's a simple Facebook photo downloader provided by Facebook:
1. Navigate to Facebook settings on your desktop browser, or go to Facebook.com/Settings.
2. In the sidebar, tap Your Facebook information.
3. Choose Download your information.
4. Choose Deselect all, then choose only the Posts box.
5. You can select the image file quality. If you want full-resolution copies, switch from Medium to High. The size of the file will be determined by the setting you select. If you have a lot of photos, the file size will grow, as will the time it takes to prepare it will increase.
6. Choose Create File.
Depending on how many photographs and videos you have on Facebook, it may take some time for Facebook to prepare the ZIP file. This could also be many gigabytes. When it's finished, you'll be prompted to download it from Available Files.
To see all of your posts and photographs, download and unzip the file, with albums as sub-folders.
The Best Facebook Photo Downloader App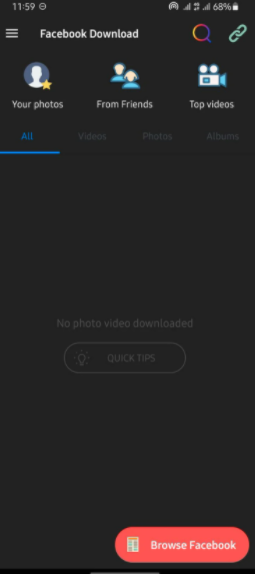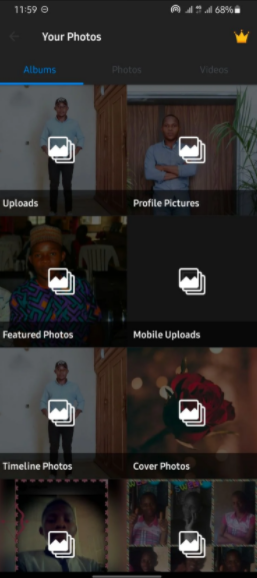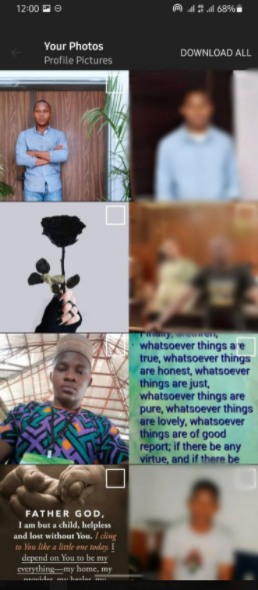 VNHero Studio's Download Videos and Photos: The best Facebook picture downloading program is Facebook and Instagram. It's free, simple to use, and works with videos as well.
You may download your personal images and albums, as well as your friends' Facebook photo albums, with this program. You may also utilize the search function to find users or Pages, and then download their photographs and videos.
The app menu includes quick links to Pages you've liked, movies and photographs you've saved, and bookmarks.
Tap "Your Photos" to see your own photos, "From Friends" to find someone from your friends list, or "Top Videos" to see Facebook Watch's recommended videos.
How to Save Facebook Videos to Your Computer or Phone
On Facebook, Photos have a simple Download button. However, there is no convenient way to download videos. FBDown.net is one of the most user-friendly web applications for saving Facebook videos. It may be used on both desktop PCs and mobile devices.
Here's how to put it to use:
1. Go to the Facebook video and copy its link.
2. Navigate to FBDown and paste the link. Click or press the Download button.
3. Tap Download Video in HD Quality or Normal Quality, and start downloading.
4. Return to the previous page if the video plays in your browser window instead of downloading. Right-click on Download Video in HD Quality, choose Save link as…, and save it to your preferred place.
It should work flawlessly. The file will be downloaded in MP4 format, which is perfect for most users. The approach is also compatible with mobile browsers.
iOS users, on the other hand, will have to use Firefox because Safari and Chrome aren't supported.
On the desktop, FBDown has a useful add-on for Google Chrome. Click the extension icon when watching a Facebook video to save it to your PC.
Other Facebook Download Tools
Aside from images and videos, Facebook has a wealth of other data about you. The firm is also known for its data collection practices.
Although the solutions listed above make it simple to download images and videos, you should consider backing up your Facebook history and learning about additional download and data management options.