How to Download All the Data Snapchat Has About You
This post below will show you what you need to know about accessing all the data that Snapchat has collected on you through the app.
Snapchat, like other social media apps, allows you to download your full history as well as the data it has about you.
Fortunately, the procedure is straightforward. Here's everything you need to know…
How to Request Your Snapchat Data
You'll need to send a request to get your Snapchat data because it's not easily available.
Here's how to make a request for your data:
1. Go to the Snapchat app and press on your Bitmoji or profile icon.
2.  At the top right corner of your screen, press the Settings icon.
3. Select My Data at the bottom of the page. You'll be asked to check in to the web view. Sign in with your username and password.
4. Scroll down and tap Submit Request once you've logged in.
As soon as your data is ready, it will be delivered to the confirmed email address associated with your account.
How to Download Your Snapchat Data
As soon as it's ready, you'll receive an email with a download link. It may only take a few minutes sometimes.
To get your data, click the link in your email. Don't give out the link because anyone who has it has access to your complete Snapchat history.
Accessing the Actual Data File
Your profile information, login history, memories, purchase history, friends, location history, Bitmoji, search history, and support history will all be included in your data file.
Your data will be delivered in ZIP format, which will require suitable software to open. Double-click the index.html file once it has been opened, and your web browser will display a page similar to the one below.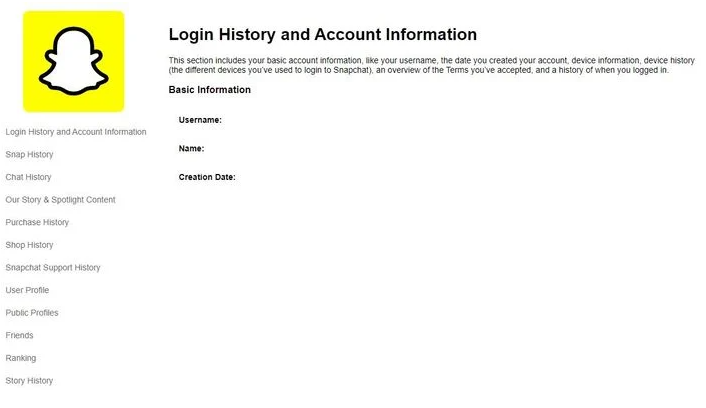 With or without an internet connection, you can travel to other pages from there.
That's how you can get your Snapchat info.
There's No Such Thing as Being "Too Cautious"
It's not a bad idea to see what information a social networking platform has about you.
Downloading your Snapchat data to see what the app already knows about you can also help you determine if you're providing too much information, especially concerning your location and purchase history.