What to know:
If you want to change your name, press on Settings & Privacy > Settings > Name > make changes > Review Change > Save Changes.

To create a new nickname, press on  About > Details About You > Add a nickname.
In this post, we will show you how to change the name on a Facebook profile and how to add a nickname.
How Do You Change Your Name on Facebook?
This is the way to change your name on Facebook.  It's quite simple to do it,  but it has few things to notice when editing your handle because Facebook won't allow you to change it to just anything.
1. Tap the inverted triangle icon(▼) from the top right corner of Facebook. Select Settings & Privacy > Settings then.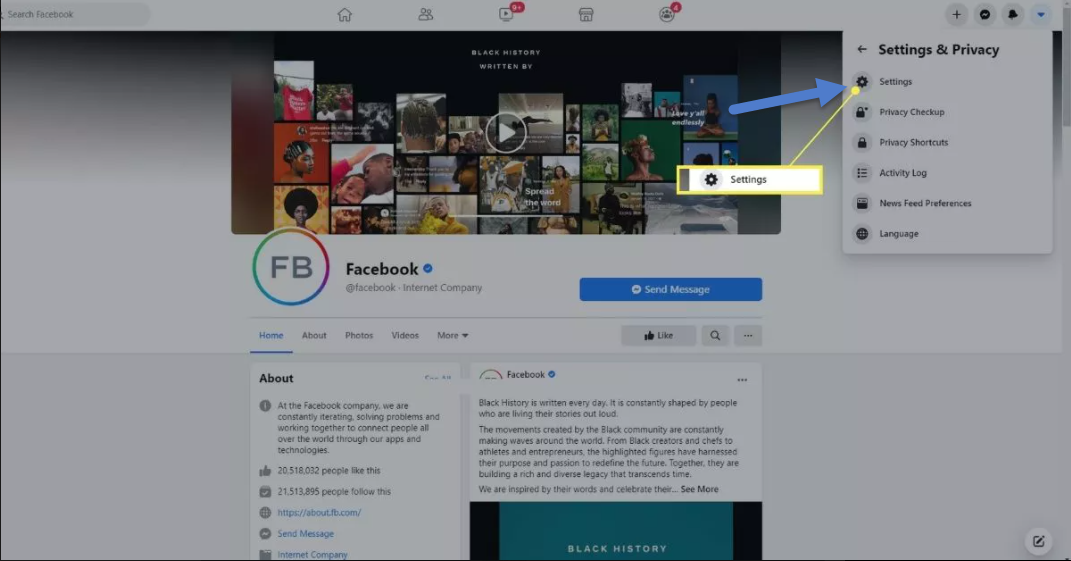 2. Choose Edit in the Name row.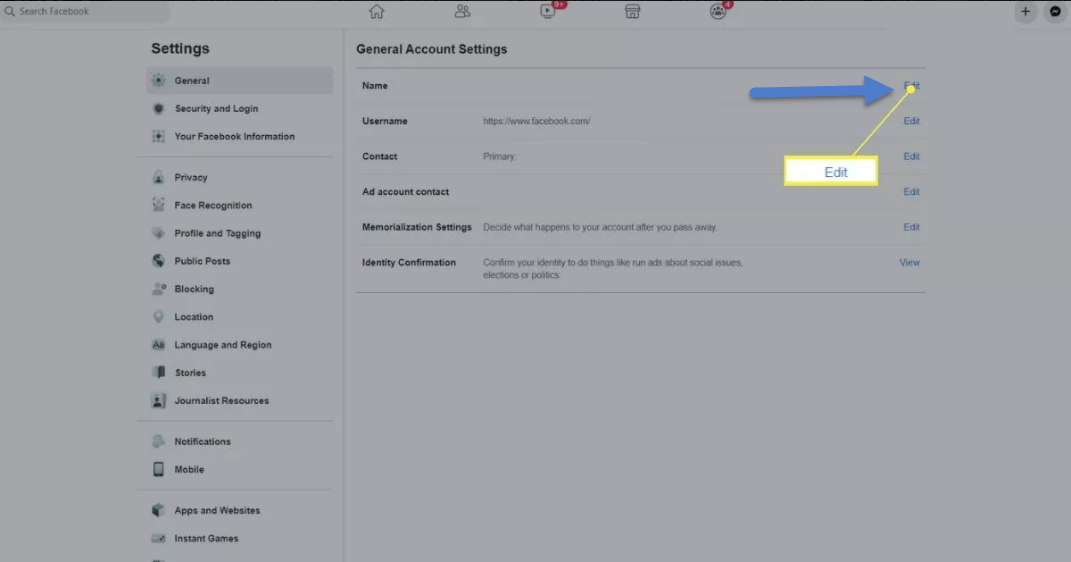 3. Alter your first name, middle name and/or surname, then choose Review Change.
4. Select how your name will appear, fill your password in, and tap Save Changes.
How to change your name on the Facebook mobile app
To change your name on the Facebook app, follow these steps:
1. Launch the Facebook app on your mobile.
2. Tap the icon that looks like three horizontal lines.
3. Select Settings & Privacy, and tap Settings.
4. Select Name and Contact Information, then tap Name.
5. Type the name you want to show.
6. Tap on the Review Change button.
7. Type your account password to confirm.
In this video, we are gonna show you how to change your name on Facebook mobile app:

How Not to Change Your Name on Facebook.
The tutorial above is just manipulations you need to perform so as to change your Facebook name.
Nevertheless, Facebook has a number of limits in place which prevent Facebookers from doing completely anything with their name. Here are few limits:
Alter your name before 60days from the day change it previously.
Utilizing scarce characters, symbols and punctuation (e.g AliCe, El1zabeth, …instead of Alice, Elizabeth)
Utilizing titles (e.g Mrs, Mr, Ms)
Utilizing rude or "suggestive" words.
Utilizing characters from various languages.
Notice that the last one on this list is not absolutely accurate.  That is you are still able to change your
Facebook name by characters from more than one language, at least is languages using the Latin alphabet (e.g Spanish, French, English). But Facebook won't allow you to mix one or two non-Western characters (e.g Korean, Chinese, Japanese) in with French or English.
Commonly, Facebook gives advice to users that they should put their real name on the profile that their relatives and their friends call you everyday life. If any Facebookers violate this regular by calling themselves, in rare cases, Facebook finds out about it in the end and requires them to identify and confirm their name. In that situation, users just can access their Facebook accounts again when they provided enough scans of identity documents, such as passports and driving licenses.
How to Add or Edit a Nickname or Other Name on Facebook
Although the social media giant advises users to use their real names,  they still able to add their nickname or
alternative name as an addition to your legal one. This way is help people knowing you by another name can find you
on Facebook. Here's how to add a nickname:
1. Choose About from your profile.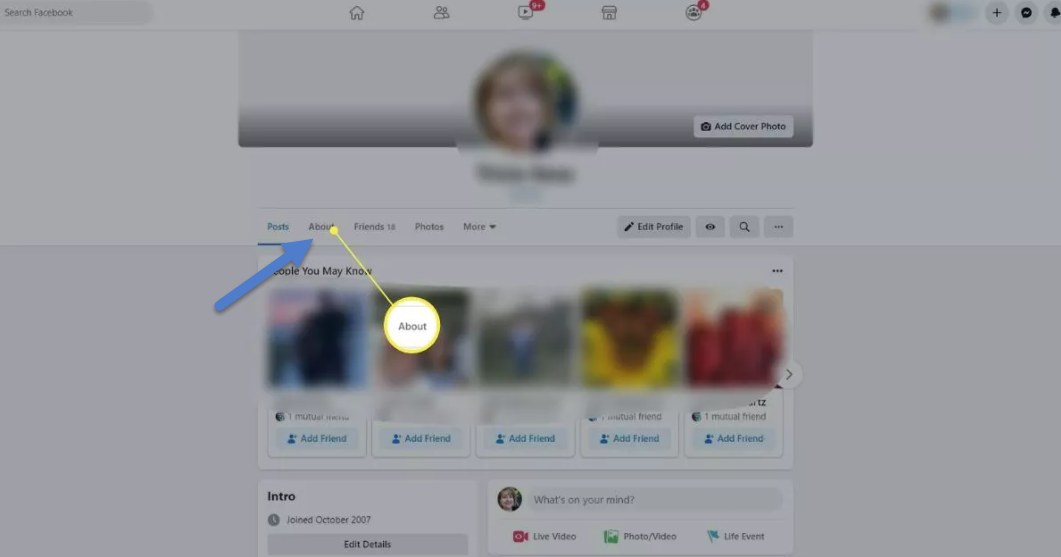 2. Choose Details About You from the sidebar of About page.
3. Choose the Add a nickname, a birth name… selection under the Other Names subheading.
4. Select name's type you want to add on the Name Type.
5. Write your other name in the Name box.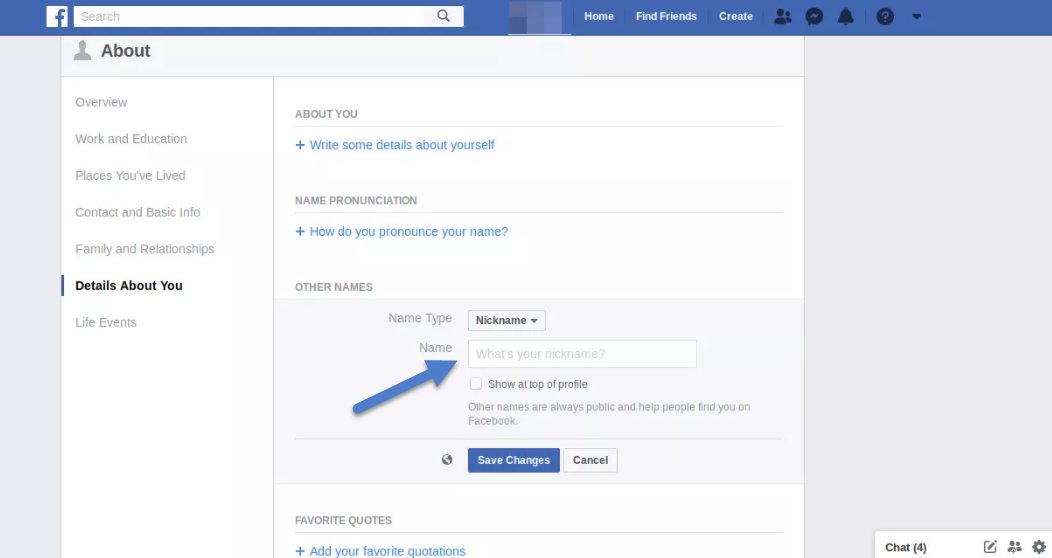 6. Tap on Show at top of profile if you want your name to appear publicly besides your main one.
7. Tap Save.
Nickname and full name are different, you can change your nickname anywhen without waiting for 60 days. You need to complete steps 1 and 2 and then hover the mouse cursor to the other name wanting to change to edit a nickname. Tap Options and then choose between either an Edit or Delete function.
How to Change Your Name on Facebook After Having Already Confirmed It
The name change process can become more difficult if you have verified your name with Facebook before because the name verified will be treated as your real name. In this situation, Facebookers will not completely able to change their Facebook name if they don't happen to have legally changed their name since the first confirmation. If they have, they still have to carry out the confirmation process once again via Facebook's Help Center.